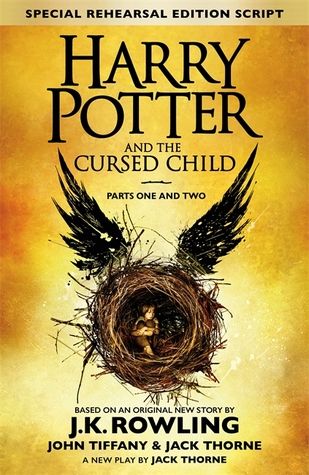 Title:
Harry Potter and the Cursed Child, Parts One and Two (Special Rehearsal Edition Script)
Authors: J.K. Rowling, John Tiffany, Jack Thorne
Published: July 2016
The Eighth Story. Nineteen Years Later.
Based on an original new story by J.K. Rowling, Jack Thorne and John Tiffany, a new play by Jack Thorne, Harry Potter and the Cursed Child is the eighth story in the Harry Potter series and the first official Harry Potter story to be presented on stage. The play will receive its world premiere in London's West End on July 30, 2016.
It was always difficult being Harry Potter and it isn't much easier now that he is an overworked employee of the Ministry of Magic, a husband and father of three school-age children.
While Harry grapples with a past that refuses to stay where it belongs, his youngest son Albus must struggle with the weight of a family legacy he never wanted. As past and present fuse ominously, both father and son learn the uncomfortable truth: sometimes, darkness comes from unexpected places.
This is probably the most anticipated book of the entire world and I too, was mildly excited but only mildly because I had a few concerns about this eighth story. Was I going to like it? What if I didn't? What if it's not what I want it to be? What if it changes my entire opinion of the series? What if it ruins EVERYTHING? The stakes were quite high for this book tbh. I'm sure I wasn't the only one asking myself these questions. Well, I have read the book - I mean script - now and I feel like I am ready to share my thoughts with the world.
While I always got that warm and fuzzy feeling inside, the feeling of coming home, every time I started a Harry Potter book - I didn't feel that way at all with this one. This isn't J.K. Rowlings work like we're used to. How much of a say did she have in this anyway? Cursed Child is a script. This means there's only dialogue and a little bit of a backstory in between. No grand descriptions of the castle or what's for dinner. We knew from the beginning it was only the script and not 'the real deal' but that didn't faze me until I opened up the book. Color me disappointed (if only a little bit).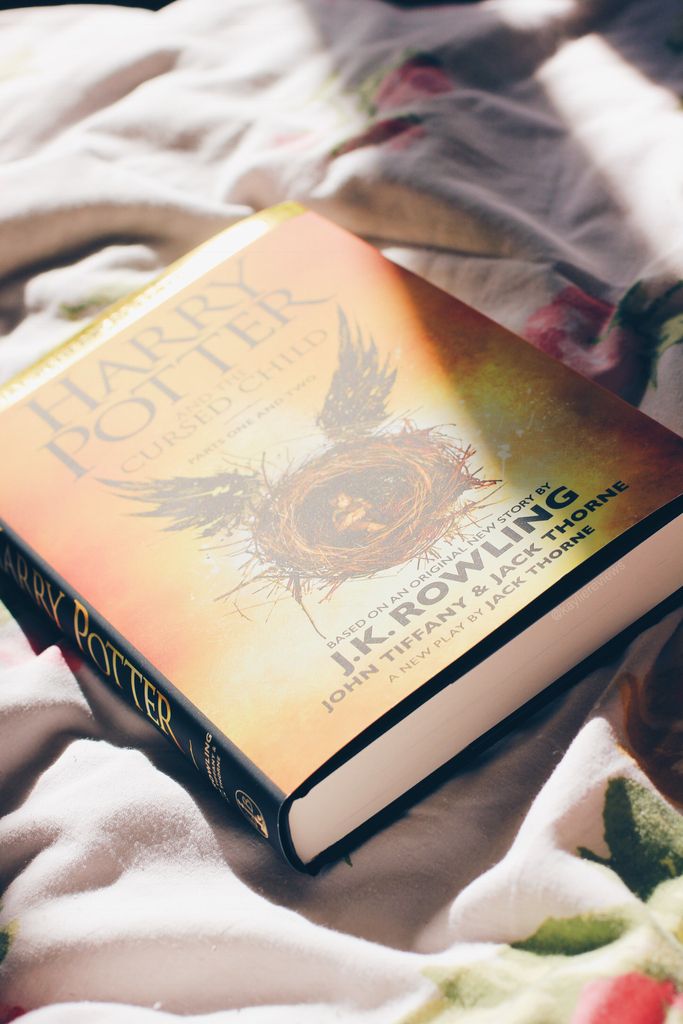 Because
this isn't a novel like all the others
- it's not gonna read like the others. There's a completely different atmosphere, it's a completely new experience. The story didn't move me until after about 150 pages in. I couldn't identify with the characters like I used to and I felt like there was a lot of drama going on that I didn't understand. Things start happening after a while and I'm mildly enjoying it at this point. I did have the feeling that scenes were recycled from one of the seven original books. That was a bummer. I mean if you're looking for an original, unique story - Cursed Child won't exactly give you that. Also, some things were very poorly (or not at all) explained leaving me with a lot of questions. I feel like there was no smooth transition between scenes but I'm going to blame it on the fact that I read a script and not an actual novel. In the play itself this is probably no issue.
The cast is small
compared to the amount of characters we read about in the original 7 books. The cast is actually very, very small with only a few minor characters added into the mix. I had great difficulty getting into the character that's Draco Malfoy. In Cursed Child it's like he's a completely different person and I just couldn't see him as Draco. He was just some other, faceless character to me. With the new characters I didn't have the issue of not recognising them anymore, because they are new. I loved Scorpius in this book SO MUCH though.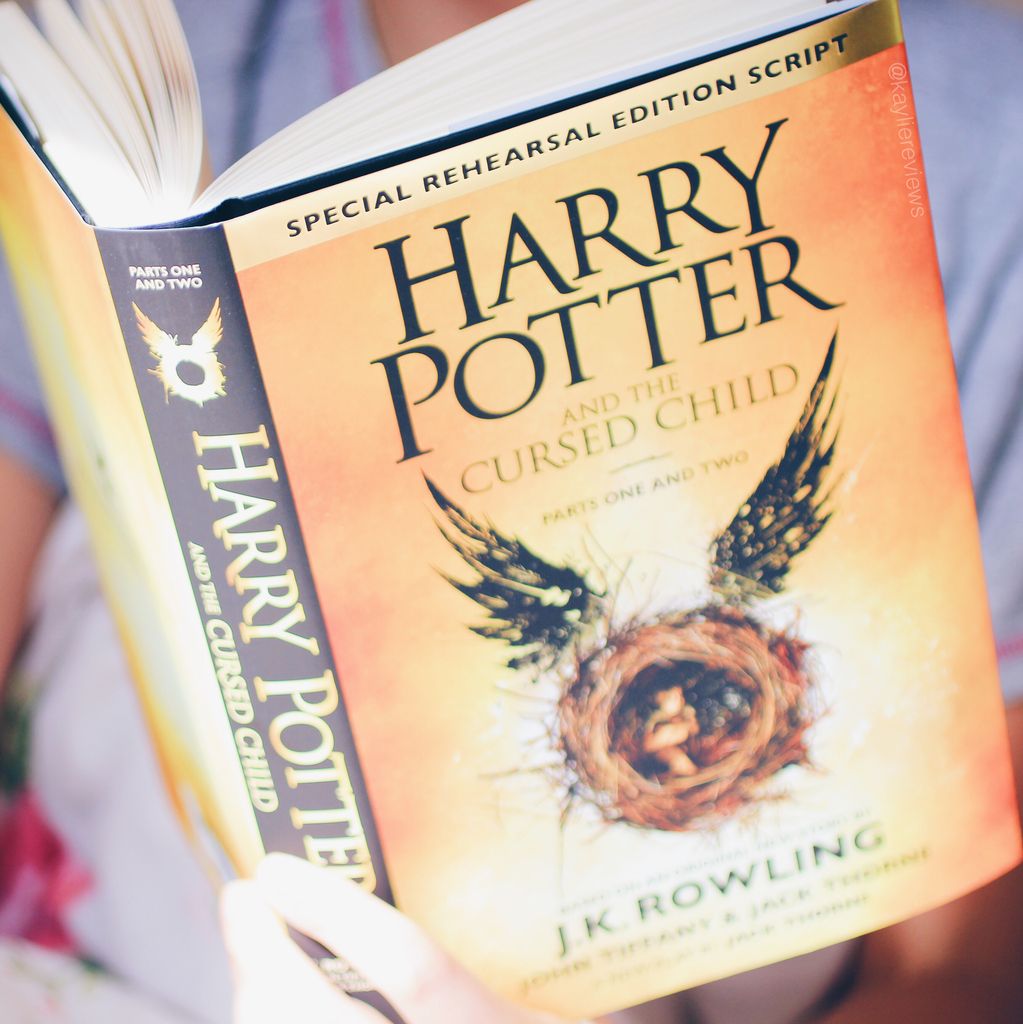 Harry Potter and the Cursed Child was
a let down
to me. I was so excited but it didn't live up to my (high?) expectations at all. I mean the story is okay but
I'm not considering this canon
- no way! The main reason why I'm thrown off by this book is that one plot twist that's revealed near the end. I was thinking all sorts of shit but mainly: what the actual fuck?! And: HELL NO. I don't want this to be part of the story, I just can't. And you can think whatever thoughts you want but I'm just going to try really hard and forget this happened, that this exists and carry on living my potterhead life like I was doing before this story saw the light of day.
I never saw the point to a Harry Potter play. Yes, I was an emotional wreck after the last book was published and an ever bigger mess when the last film came out and everything came to an end. But that was it, you know. The story was told, the end.
If you're thinking about reading it, I'd say feel free to do so. Just don't expect to 'come home' to Hogwarts and don't expect to be sucked into the story either. I wasn't swept away and I am kind of regretting reading it. Am I going to read it again? Probably not. I very much want to forget all about it to be honest. Did it change my vision on the other books? Hopefully not. I wish 'unreading' was a thing.
It was really hard to write this review of sorts without spoiling things, even if they're just details but I'm all for #keepthesecrets so I'm keeping my mouth shut. However, if anyone feels like discussing the plot DM me on Twitter or Instagram. I'd be happy to talk about this book!
---
Have you read Harry Potter and the Cursed Child? Have you seen the play? What did you think of it? Are we on the same page or do you have a completely different opinion? Let's talk!