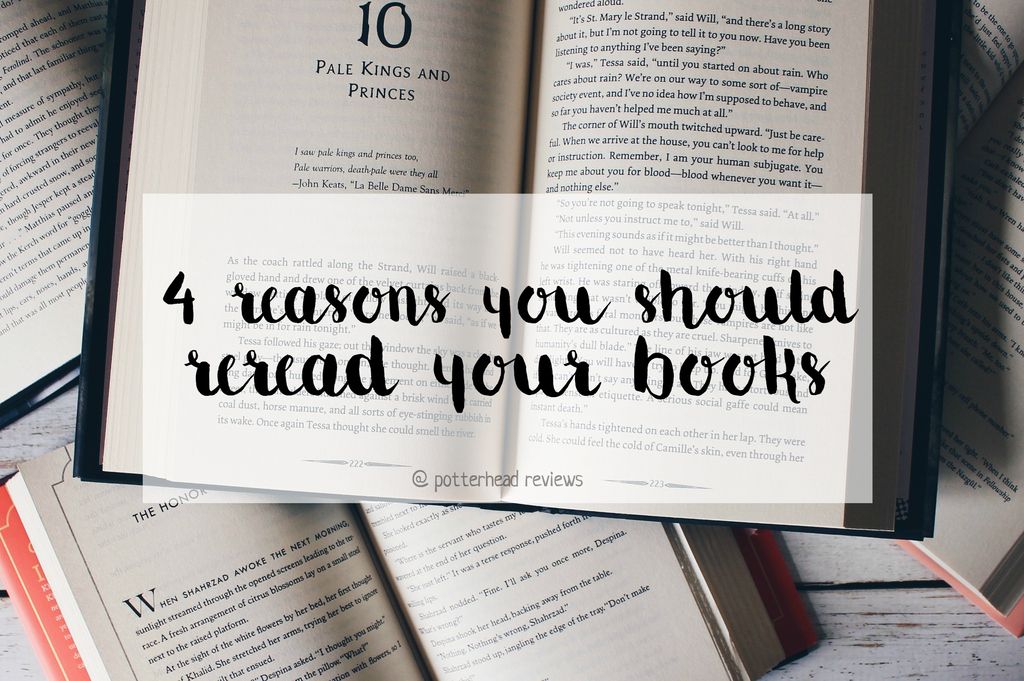 Last year I challenged myself to reread a certain amount of my books. As a result I have been rereading like a crazy person since then. In total I have reread 21 books since the start of last year. I'm honestly impressed with myself.
Never thought I'd find joy in rereading books. To be quite honest, I used to think it was a waste of time. You know "so many books to read, so little time" and all that. But screw that statement - life's not about reading all the new books. It's about enjoying and rediscovering old ones. Today I'm giving you 4 reasons why you should reread your books.
---
Warning: there are minor spoilers for the Throne of Glass series in this blog post. The bigger spoilers are hidden though.
---
1 // You spot all the details you missed the first time
Honestly, I still find things in the Harry Potter books that I didn't spot the first 300 times I read them. How it's possible? I don't know but I LOVE IT. Because even though I basically know the story by heart, I can still get excited over little details that I missed.
2 // Suddenly, there's all this foreshadowing that I totally missed as well?! WHAT
I completely miss the foreshadowing when reading books for the first time. It just passes me by without me noticing. I'm thinking about Throne of Glass here specifically. In the first two novels of the series there's SO SO SOOOOO much foreshadowing that I missed. If I had thought about all those clues more, maybe I might have come up with some sort of theory or even better... figure it out. But no, I'M COMPLETELY BLIND FOR THESE THINGS.
3 // I can pronounce the names right this time around
Specifically thinking about Chaol here. I was reading it as 'Cole' when reading Throne of Glass and Crown of Midnight for the first time. I found out it was actually to be pronounced as 'Kale' before I started the third book. Another relevant example is 'stele' (The Mortal Instruments). Up until the TV show premiered I was totally saying it as 'steel'. DON'T LAUGH AT ME.
4 // You notice the character development
Again, Throne of Glass. Celaena is SCARED of the King of Adarlan in the beginning. Look where she is now!
There's such a difference between how she was in the first book and how she is in Queen of Shadows. I didn't see it reading it the first time, but now it's clear as day. Celaena is fierce in the first books but she is a downright QUEEN in the fourth book.
I also kind of forgot how much Alec Lightwood changed over the course of the first three books in The Mortal Instruments. It took me a little by surprise tbh.
---
Do you reread books often? If you do, what do you enjoy most about rereading your books? And if you don't reread books, why not?