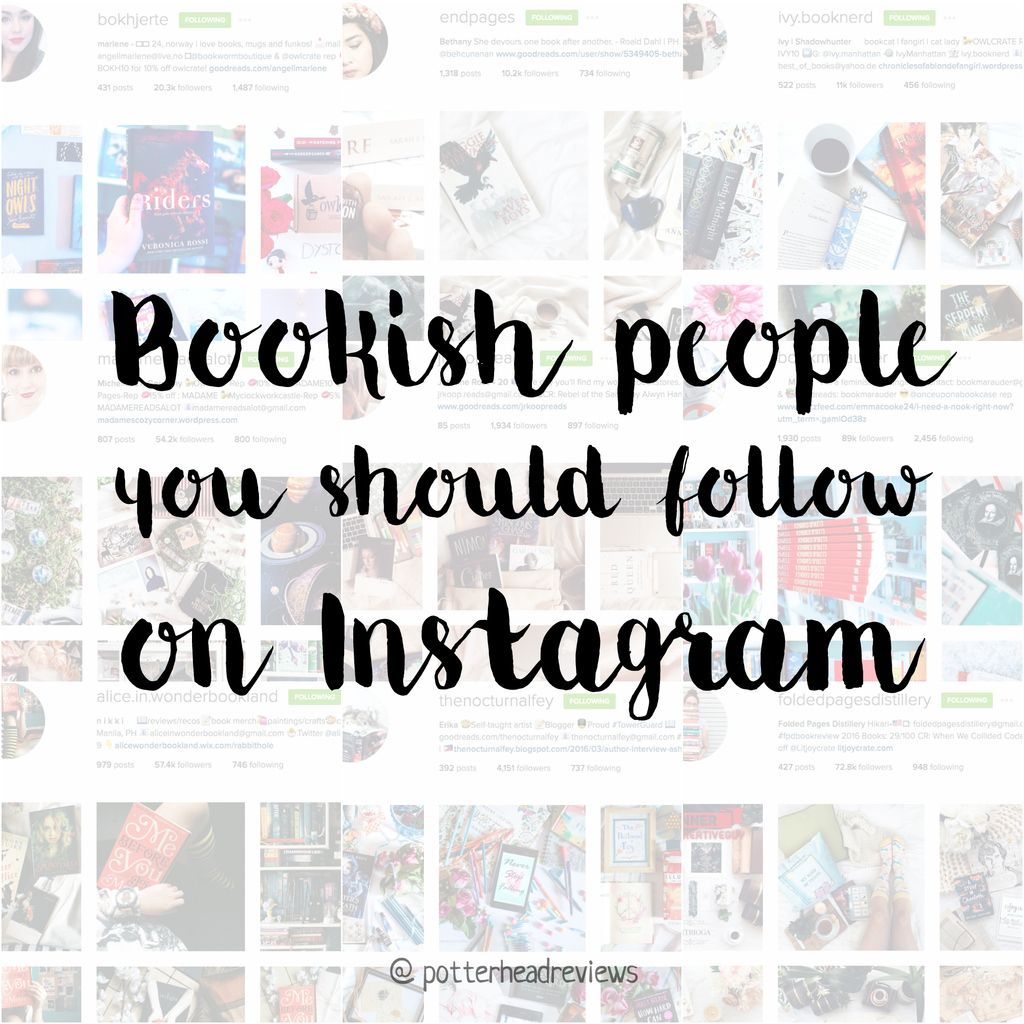 I was supposed to pick ten bookish people but I picked about 5467975 because I couldn't choose (but I know you are grateful because everyone wants more bookstagram accounts to follow so...). I'm sorry if this is gonna be a long list, but I promise you that each and every single one of these bookstagrammers are worth the follow. Honestly, I can't say there's a pattern so I think there's something in this list for everyone. And of course... don't forget to follow this
little potterhead on Instagram
as well (never gonna stop shamelessly promoting myself).
Some of my faves
bokhjerte
• I like the vibrant colors, she likes a lot of the same books as me and she has gorgeous bookshelves.
bookmarauder
• Mara has the most amazing shelves and literally all the best merchandise EVER.
endpages
• clean pictures yet they're also warm.
I'm having a really hard time explaining all these feeds.
madamereadsalot
• she has a really cute cat but also BOOKSHELVES *heart-eyes*
alice.in.wonderbookland
• props props props props
ursula_uriarte
• ALL OF THE PROPS
ohthebookfeels
• SHE MET THE SHADOWHUNTERS CAST #jealous
jrkoop.reads
• warm pictures. give me more.
seeking.neverland
• MORE PROPS
foldedpagesdistillery
• so much thought is going into these pictures that I feel like a fraud sometimes
darkreaders
• very very VERY busy and dark pictures but I'm loving it anyway.
ivy.booknerd
• I love the filter and the props that are used in her pictures.
thenocturnalfey
• also a little busy but very light.
sapphire.reads
• love how every picture uses the same 'background'. I love consistency and this is like consistency x 100.
twirlingpages
• I like how Alexandra sometimes makes an appearance in her photos, it makes it
that
more personal
Authors I follow on instagram
Tahereh Mafi
•
Ransom Riggs
•
Sarah J Maas
•
Cassandra Clare
Honorable mentions (because 15 simply wasn't enough)
readerinareverie
•
demeriahh
•
sweptawaybybooks
•
kath_reads
•
the_girlygeek
•
awkwardbiblio
•
dreamthiefs
•
thechaosofbooks
•
bookvibes
•
bookskay
•
catebutler
•
_halfbl00dprincess
All these bookstagrammers inspire me to make my pictures look extra good, to use more props and to get better at photography as a whole. I already shared some
tutorials that me a better photographer
and the
things I use to take my Instagram pictures
a little while ago. I can still get a lot better and I will by practicing. I really hope you check all of these people out, I know there's a lot but it's worth it I promise!
---
Do you have a bookstagram account? If so, let me know your name so I can come look at your pictures! Got any bookstagram recommendations for me? Would you like me to share a list of other Instagram accounts I really love?