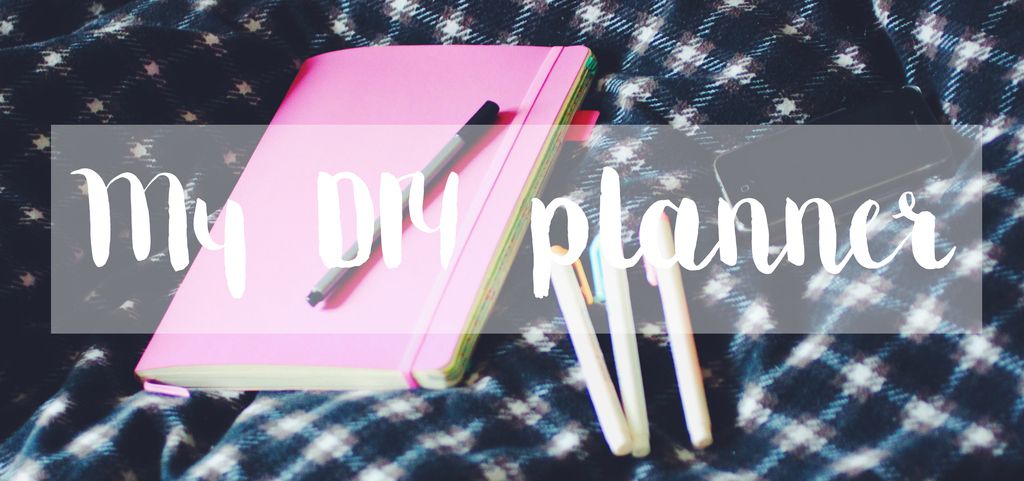 After years of buying planners in the store and never being quite satisfied with them, I started making my own. Agenda's are easy to use as you don't have to do much besides filling it in. The only thing that I never liked was that it didn't get rid of the chaos in my head. I still found myself making multiple plans and to-do lists besides those in my planner. There were a bunch of things that I missed in the planners I bought, that I then made myself. I started in my own diy planner back in July 2015.
What I use
I've tried using printables but either the size wasn't right, or the American date system was used - they were never really perfect to me and I wanted it to be perfect. Instead I turned to writing and drawing everything myself and after some research decided I was going to use a notebook for this and not loose papers. Here's a list of what I use:
• Moleskine XL ruled notebook, soft cover (the violet/pink edition is called Orchid Purple)
• Staedtler pigment liner in 0.2 and 0.3
• Staedtler triplus roller
• Staedtler triplus fineliner (the colored ones)
• some washi tape here and there
Choosing Moleskine was easy. Last year I started in a black, large, ruled Moleskine (I use it for book reviews and writing random thoughts down) and fell in love with it. They are not the cheapest but in my opinion you get your moneys worth. The paper is of good quality and the lines are subtle. If you were to get a cheap ass notebook, the lines would be harder, darker and just way too visible for my liking. The cover is also sturdy + there's a pocket in the back for little bits and pieces you want to keep safe.
As for pens, I was inspired to buy black pens by watching a crap load of planner videos. I've always, since I first learned how to write, used blue ink. Nothing else. I like the look of black though and when I can, I always pick black now. So far I've tried some Staedtler ones and liked them. I also have a pack of HEMA fineliners but the tip deforms too easily.
Other than a notebook and a pen, I don't need much else. I use washi tape to decorate and sometimes buy separate stickers for some extra decoration but that's it. I found that I'm not really a sticker-person.
Planner set up
There are a few components that are essential to me in a planner and I made sure they were included when I started setting up mine:
• yearly overview (with week numbers)
• monthly overview
• weekly spreads
➤ with a 'this week' overview
• notes section in the back
After using a lot of planners I've found that these are the things I use most and are the most helpful to me. It's basically figuring out how your brain works and how you can structure information the best.
Let me elaborate on two sections:
•
monthly overview
: I use this to plan my studying sessions, to mark when I don't have school, when I have appointments & most important of all: series/season premieres of my favorite shows + release dates of books. This is all color-coded as well.
•
weekly spread
: to plan in detail what I'm going to do on which day of the week. I also like to have a 'this week' section to put the most important things that'll happen that week.
The planners I used to buy never had a monthly overview which resulted in me printing off monthly calendars all the time. Eventually I would have planning-related things in about a million different places, resulting in more chaos both in my head and in my room. Now everything's in one place.
This is not a bullet journal
Although it looks very similar (the fact that I write everything myself etc.) I don't see my planner as a bullet journal*. I don't use a key or track my habits or keep a table of contents. When I first started thinking about making my own planner and what needed to be in it, I didn't even know what a bullet journal was (I only recently found out about this tbh). I took no inspiration from this concept, just came up with everything on my own and it so happens to look similar. More recently I started taking inspiration from the bullet journal tag on Tumblr for like flags, leaves, etc.
*if you don't know what a bullet journal is, here is
the official bullet journal website
.
---
How do you plan? Do you use a planner? What kind do you use? Do you decorate your planner?