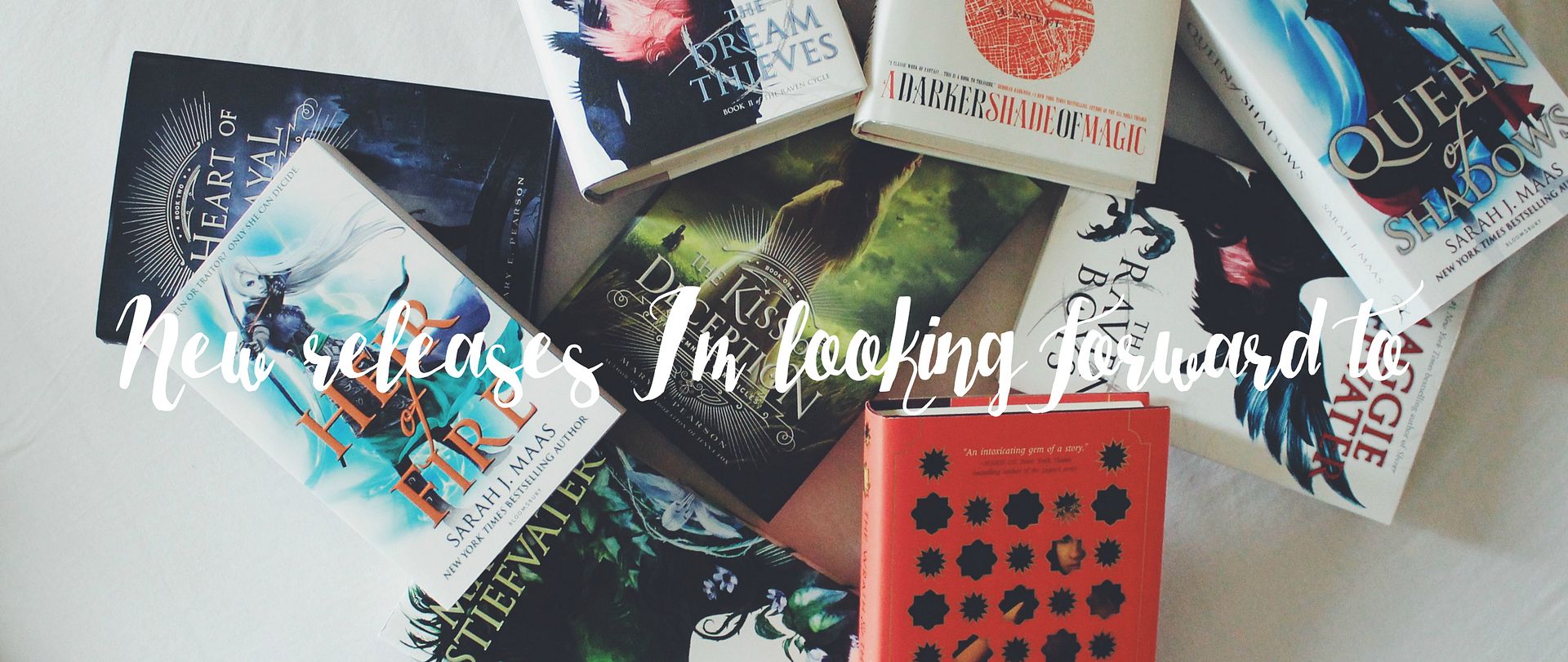 New year,
new me
new releases! Some much anticipated sequels and some dreaded endings. I'm not the best when it comes to keeping up with series but that doesn't mean I'm not excited they are coming out in 2016! I found 10 releases that I'm looking forward too, not all of them have a title and cover yet so bear with me.
•
Calamity - Brandon Sanderson (February 16)
: not my favorite of Sanderson's work but it's been entertaining so far and this is the conclusion so I can't
not
read it. Curious about how he's going to wrap it all up though. I'm not expecting to be blown away like with Hero of Ages but still... it's Brandon Sanderson the king of plot twists we are talking about here.
•
A Gathering of Shadows - V. E. Schwab (February 23)
: I feel like I'm one of the very few who weren't wow-ed by this. I mean it's a good fantasy but I'm still waiting for my socks to be blown off. Maybe in this one? It's got potential and an interesting magic system.
•
Lady Midnight - Cassandra Clare (March 8)
: y'all know I'm obsessed with The Infernal Devices and that I'm bouncing in my seat, as we speak, because The Mortal Instruments is a show now! So obviously I'm gonna read Lady Midnight. I want to know how Cassie's going to find a way for parabatai to be together!
•
The Raven King - Maggie Stiefvater
: I'M DYING OF ANTICIPATION. PLEASE GIVE ME THE THING.
•
A Torch Against the Night - Sabaa Tahir (April 26)
: An Ember in the Ashes was a good enough YA fantasy. Very cruel and dark, which is about the only thing that's distinguishing it from all the others. Give me some plot twists, some magic and it's all good, man!
•
The Rose and The Dagger - Renee Ahdieh (May 3)
: again, not super impressed about the first book but it was still good. For me, it was a different experience because I wasn't too familiar with the original fairytale. How is it going to progress now though? Also: there's magic and I want to find out more about it so yeah... I'll read it.
•
A Court of Mist and Fury - Sarah J. Maas (May 3)
: I'm not
that
excited about this release since I wasn't over the moon with ACOTAR. There were some (a lot) things I wasn't okay with, I don't like fairies and especially the ones with long fingers (as I mentioned in my "
genres I quit reading
" post from a little while ago) and I sense a love triangle coming up and I'm just not about that life.
•
The Beauty of Darkness - Mary E Pearson (August 2)
: I find this quite a mainstream title compared to the others but WHO CARES ABOUT THAT ANYWAY. After all, it's the story that counts.
•
Throne of Glass #5 - Sarah J. Maas
: because obviously Aelin is QUEEN.
•
Falling Kingdoms #5 - Morgan Rhodes
: it's basically a YA asoiaf and that's exactly why I'm loving it. Also because I want Magnus to have his happy ending. It's really all I'm asking. Please?
---
What books are you looking forward to? New series that are coming out and that I should check out?