Honestly, December's been flying by and I can't believe this year's Christmas is already in the past. It always goes by so quickly! I don't really care for any other type of holiday, the only one I really get excited about is Christmas.
I named this post 'book haul' but I'm also going to share some of the other gifts I received. I'm not trying to show off in any way, I'm just excited about all of them. If you shared what you got for Christmas as well, let me know and I'll check it out!
The books I got
Now, these weren't really a surprise since I ordered these myself back in November. I always order the books I want myself because I just want to be sure they are the right editions (ya'll understand this). My favorite out of them all is obviously the illustrated edition of The Sorcerer's Stone. I particularly liked the US edition because it has the 'Harry Potter font'. I've skimmed through it a few times and it's so beautiful I want to cry. Best. Gift. Ever.
(thanks me!)
I'm also excited about the fact that Library of Souls is turquoise underneath the jacket (!!!) and Illuminae is one of those floppy paperbacks. I LOVE floppy paperbacks.
With four new books added to my collection, I'm gonna have to do some moving around because I simply don't have the room to put them all. This is a first world problem. It's going to be a like a game of tetris trying to fit them all on the shelf.
One day I will own a proper bookshelf. One day.
•
Illuminae by Amie Kaufman, Jay Kristoff
•
Harry Potter and the Sorcerer's Stone Illustrated Edition by J.K. Rowling (illustrated by Jim Kay)
Santa also brought...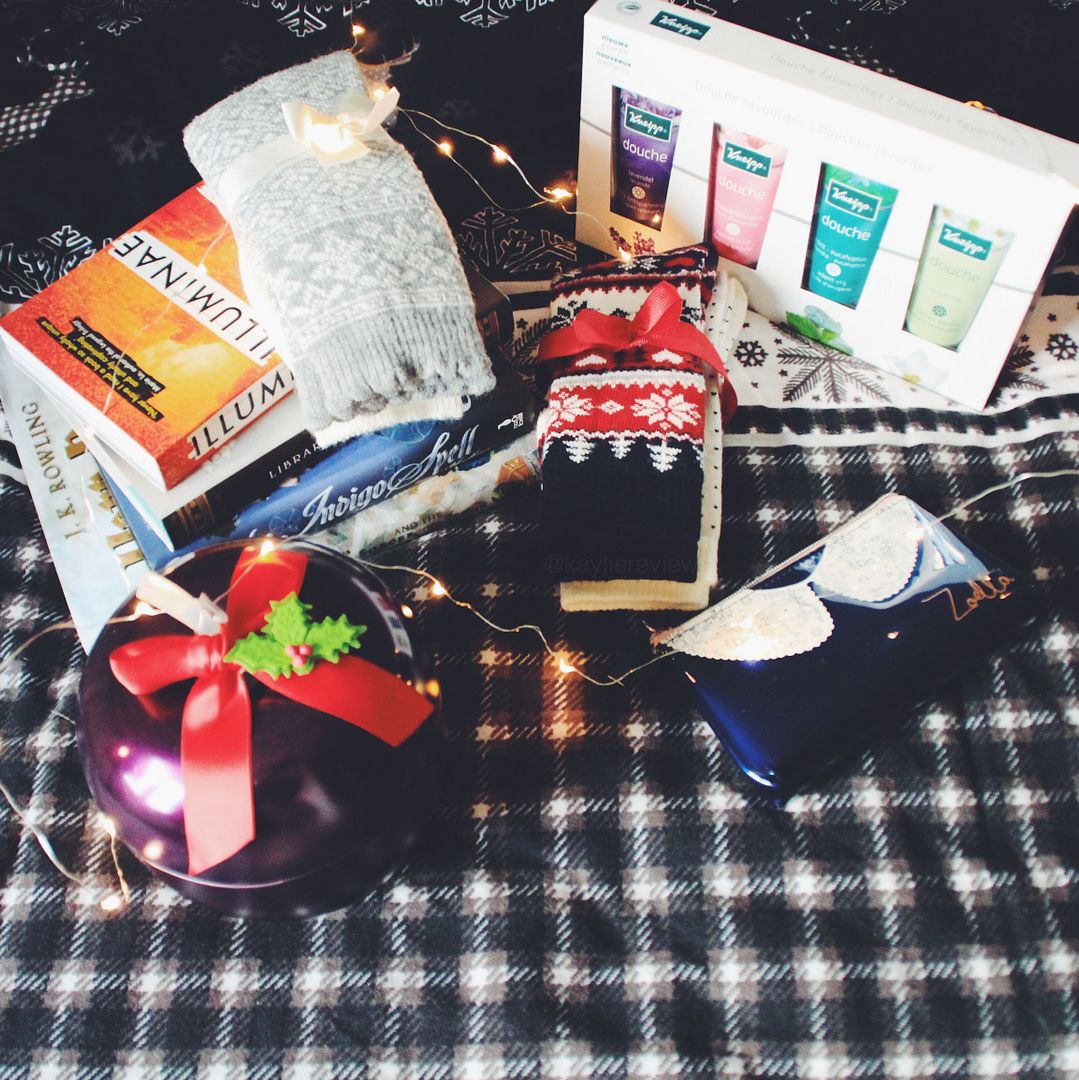 I also just want to talk about the other gifts I got because they're super awesome as well. I didn't really ask for any of them (besides the Zoella purse) which makes it even more awesome that I got them at all.
It's not Christmas if you don't receive socks and I got the cutest ones. They're from H&M so go NOW for cute woolen wintery socks.
Let's talk about this purple tin for a second because I want to applaud The Body Shop's creativity when it comes to giftsets. It's a giant purple tin apple guys!
It's probably supposed to be a plum but the shape is more like an apple tbh.
Anyway, there are goodies from the frosted plum collection inside it.
These are a few bits and pieces of what I got. I also got the softest PJ's in the entire universe but it's not in the pictures. Unfortunately it's way too warm to wear them so I would like to ask the climate to get its shit together and make it COLD. PLEASE? It's way too warm for this time of year, it's not even funny.
---
How was your Christmas? What did you get? Did you get a lot of books? Any gifts you consider returning
(it happens!)

?