Personal
Blogging
I haven't been very good when it comes to reviewing books. I know. But don't worry, I'll get into doing that again soon. There just hasn't been a book that I really wanted to review. I've been reading a lot of books that have been hyped already so I feel like my review wouldn't contribute much. On the other hand I have been working on my book review page. Let's be honest, that page is a mess and I have been working on a better version for months now. I can finally see my progress on the thing and I think it'll be ready very soon.
Something else I need to mention: I changed my commenting platform from Blogger to Disqus. Right now it looks like a mess (I don't how if I can change that probably not) but in the future everything should look fine (with new comments). I find Disqus overall better looking and it's much easier to visit all of your blogs. With Blogger there's also not exactly the option to show your blog name (or is that just me?) so... I think Disqus is going to make the commenting experience better or at least I hope so.
Do let me know if you think this is an improvement or not
, I would appreciate it loads!
My book collection
This month I made the decision to finally get rid of some books and clean up those damn shelves because they were getting overcrowded. So, on a friday night I sat down and took all of my books off their shelves (except my favorites because I would never ever throw those out) and threw them all together. I told myself not to think too much and JUST DO IT. And let me tell you, my collection has shrinked quite a bit. There were just so many books I didn't want to read... I put them all in boxes with the intention to donate them to a second-hand shop in my town. I'll also let my friends have a look and see if they want anything.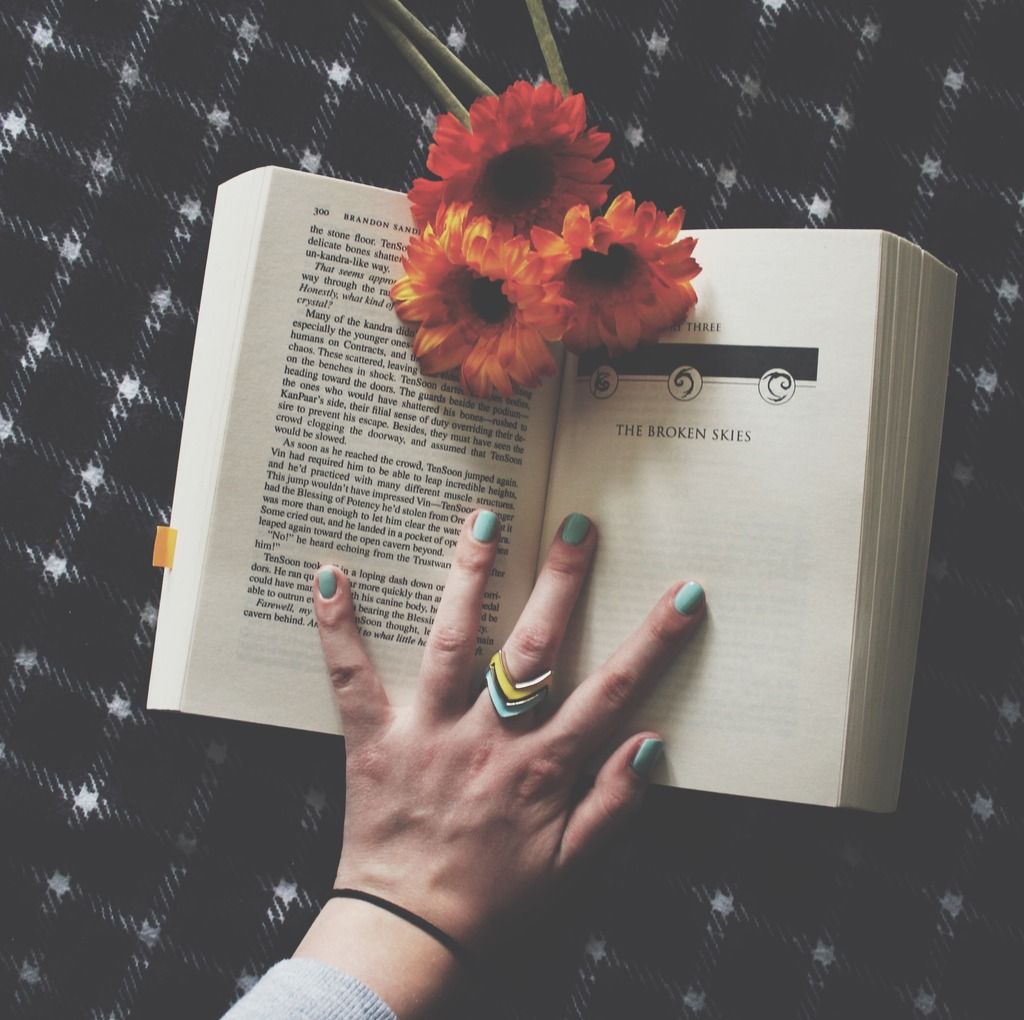 School trip
We made a trip to Rotterdam with school for 3 days. We were there to learn about the multiculturalism and see the differences between our countries/cultures. We also met students that are studying the same thing as we do but there are quite some differences regarding classes etc. The biggest difference is that Rotterdam has over a 160 ethnicities which is probably more that Belgium has as a total. It's quite the eye-opener.
On some afternoons we took the time to get a little shopping done. I was sad to see that Polare (= bookstore) was closed as this was something I really wanted to go to (no surprise there). I did buy some clothes though which I'm very happy about (like Harry Potter PJ bottoms). We also went to have dinner every night somewhere in the city. The first night, which was monday, we ate at
Mangiare
(Van Oldenbarneveltstraat 150) which is apparently an Italian restaurant. Mangiare does not have a menu per sé, you just walk in and see what they offer that day. On tuesday we had dinner at
Satebar
(Witte de Withstraat 51A) where you can get various dishes, not just saté. On the last night we stopped by
Vivu
(Witte de Withstraat 94A) which is a Vietnamese restaurant. I think this last one was also my favorite. I thought it was super delicious and recommend this restaurant to anyone who wants to try Vietnamese sometime.
Rotterdam is a beautiful city and if you plan a trip to The Netherlands you should definitely visit this city. The shops and buildings are huge and unlike anything you would find where I am from (close to Bruges). I don't think there is anything you cannot find in Rotterdam, it's amazing. I also just find Dutch people to be super sociable and spontaneous and overall much better company than Belgians.
Books I read
Bloodlines - Richelle Mead
| 4 stars
Finnikin of the Rock - Meline Marchetta
| 4,5 stars
Firefight - Brandon Sanderson
| 4 stars
Miss Peregrine's Home for Peculiar Children - Ransom Riggs
| 4 stars
Challenges
No progress this month. You can check if I made any progress throughout the month on my
challenges page
.
Fairytale retelling challenge
Progress
Read: 1/5-9 (20%)
Rereading challenge
Progress
Read: 3/7 (42%)
TV // movies // music
• I saw
Gone Girl
and really liked it. I got the 'plot twist' before I even saw the movie. I don't remember where I learned that information but yeah... I knew what that twist was. Everything that happened after was a surprise though.
• Later in the month I also watched
Love, Rosie
which is an adaptation of the book
Where Rainbows End
by Cecelia Ahern. It was cute and funny and the perfect movie for a relaxed Saturday night.
• I started watching
Eye Candy
which is a fairly new show on MTV. The reason I started watching this is because Victoria Justice plays the MC and this is the first time I've seen her play a serious role. We all know her from Nickelodeon but it looks like she moved on with her acting career. This show is pretty creepy and is about a person who stalks Victoria's character Lindy after she signed up on a dating website. This stalker also seems to be killing the people he meets on that website when he finds out they aren't exactly how they say they were. I'm probably giving away too much already but if you like Stalker and Pretty Little Liars I think you might enjoy this show as well.
• March is like the month of season and series finales because first came
The 100
's season finale and me and my friend were chatting about it on Facebook while we were watching and our conversation existed of the following:
"WTF"
"they just took it to a whole 'nother level"
"#badassery"
"aww bellarke"
"WHY DIDN'T YOU FOLLOW HER BELLAMY"
"wtf jaha where you at"
"you should see my face rn"
• Then came the season finale for Eye Candy (which was interesting but also a little rushed sometimes) but THEN
GLEE
. Oh my lord. I cried big fat tears. The Finn Hudson parts get me every single damn time man! I'm going to miss this show even though it had its awkward and silly parts and sometimes I thought they tried too hard but it was still a fun show. I wouldn't say I learned most of my life lessons from this show but I know a lot of others did and I think that's what's most important. It's sad to see the show go but on the other hand I think it was time to wrap it up. So I'm both happy and sad right now (I just watched it, I'm a mess).
• The finale of Pretty Little Liars shocked me in the sense that the entire episode was just cray. But you know the whole #BigAReveal was blown up, after watching I still didn't know who A was. I had to look at the PLL facebook page to be sure.
You managed to hype your show up, only to disappoint your fans again PLL...
• There's a
trailer for Paper Towns
!
• There's news on the
TV adaptation of The Mortal Instruments
. First off: the title is Shadowhunters but we already knew that. Second: it'll air on ABC Family, which I'm not too sure about but we'll see. Their Twitter handle is
@ShadowhuntersTV
and on
MTV
you can read some more about it. As you can see the banner clearly says Shadowhunters: The Mortal Instruments so... does that mean that someday in the future there could be a Shadowhunters: The Infernal Devices? Or am I too hopefull?
Blogposts you should check out
• Crini @ All About Books made a
pretty wallpaper inspired by Quintana of Charyn by Melina Marchetta
AND
part 2
and
3
of the spreadsheet functions (THANK YOU!)
• Cait @ Paper Fury asks
if you visualize character faces
which is an interesting question because I can't!
• Sydney @ A Daring Adventure talks about
ways to save money as a book blogger
• And then for some shameless self promotion:
my discussion about heroism vs. egoism
is my favorite discussion I did so far!
Quotes from books I (re)discovered this month
"Because without our language, we have lost ourselves. Who are we without our words?" ― Melina Marchetta, Finnikin of the Rock
"Everything is evil that humans can't control or conquer" ― Melina Marchetta, Finnikin of the Rock
"This time, when she'd pointed it at me, she'd flicked the safety on. If that wasn't true love, I don't know what was." ― Brandon Sanderson, Firefight
"We want what we can't have, even when we have no right to demand it." ― Brandon Sanderson, Firefight