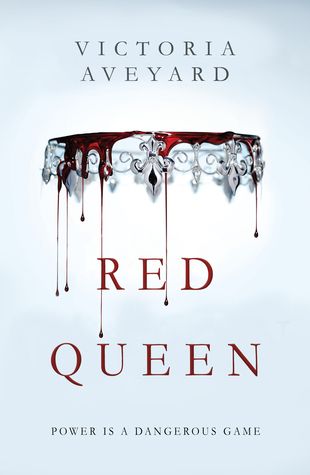 Basic information
Title:
Red Queen
Author:
Victoria Aveyard
Series: Red Queen #1
Genre: young adult, high fantasy or dystopia
Published: February 2015
The poverty stricken Reds are commoners, living under the rule of the Silvers, elite warriors with god-like powers.
To Mare Barrow, a 17-year-old Red girl from The Stilts, it looks like nothing will ever change.
Mare finds herself working in the Silver Palace, at the centre of those she hates the most. She quickly discovers that, despite her red blood, she possesses a deadly power of her own. One that threatens to destroy Silver control.
But power is a dangerous game. And in this world divided by blood, who will win?
Red Queen was one of my most anticipated new releases for 2015 but it left me feeling empty and disappointed. I wanted to like this book. I wanted to love it. And I did neither of those things.
I've read a few fantasy novels now and it's becoming quite apparent that they have a lot of similarities. This book was
nothing 'new'
. I liked the red and silver blood dividing the people into upper and lower classes. It's interesting and unique. Sadly, I wasn't quite impressed with the rest of the book. Red Queen reminded me of a lot of other YA fantasies I've read. It reminded me the most of The Selection.
The story is fast paced but is missing explanations on a bunch of things. I would've liked to get more information, more description. There's
plot twists
on every other page or so. The story won't bore you for a minute unless you see 90% of the twists coming, which I did. That's such a disappointment to me that I gave up on trying to like this book after only reading a few pages. It was just all so obvious to me. Except one plot twist near the end (the biggest one of the entire book basically) so I'm glad at least something surprised me. Everything happened so conveniently in my opinion that I didn't sympathize with the main character at all. That and the fact that she made all the wrong decisions and is too willing to go along with everything. I just didn't think she made a great heroine.
Around halfway through I just wanted it to be over. I wanted to finish the book as soon as possible, to get it over with. Red Queen didn't sweep me off my feet like many other books in the same genre did. As a matter of fact I feel quite indifferent about it. Now, don't let this review put you off. Red Queen has gotten a lot of mixed reviews, meaning that a lot of people didn't like it BUT also that a lot of people did. I might not have liked it, but you might. This is the kind of book you have to read yourself before judging it.